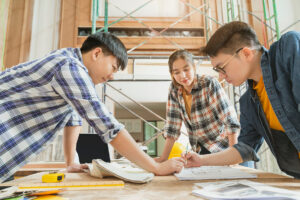 Renovating your home in Singapore can always go in two different directions. We are a Singapore based interior design company, that are here to make sure that it is a moment in time where your quality of life is turned magical. After all your surrounding space dictates the mental space you're in, hence carefully curating your home's interior must be treated as a work of art. Additionally just like conventional art, interior design has its waves and trends. ​Here are a few patterns that we have spotted being so close to the interior design industry over the past few years. Some completely new trends have emerged giving interior design completely new and fresh looks, whereas some old trends have decided to pop back up again.
Compartmentalise Your Home
Covid-19 has all rights to take credit of this trend as work from home implied the need to demarcate boundaries work wise, life balance wise but also within your home's interiors i.e. in the living room, study room and bedroom. There have been a rise in building areas known as the "zoom room", A zoom room isn't necessarily an actual room but might be a separate working space with a "curated background" that just so happens to make you always look work-ready in your meetings. Interior design elements of bookshelves and lighting play a key role in designing these areas. With the two lockdowns we have experienced, many homeowners and interior designers now truly understand the meaning of 'coccons', serving as focus areas meant to serve a very particular purpose, with larger and open communal spaces used as break areas.
Sustainable Interior Design and Renovation
Both renovation and interior design trends are witnessing a massive rise in the demand for furniture and surfaces made of sustainable, eco friendly, recyclable materials. ​EGGER is such a brand that has a widespread name in creating conscious wood-based materials, as their slogan goes, sustainability isn't just a word for them. EGGER stands for responsible use of wood as raw material. As in nature, their processes are also organised in resource-saving cycles. They are committed to promoting sustainable forestry and the conservation of natural resources. If you see an EGGER symbol, you may rest assured that the wood and forest are managed sustainably. Given the market, EGGER is increasingly growing and building its name in the Apac region.
Other than the sourcing of the wood, another careful consideration to have in the context of sustainability, is of VOC's. Harmful volatile organic compounds are of many kinds, including carbon dioxide, which exist as a greenhouse gas. Another VOC, named as formaldehyde is of the same nature. It exists and is emitted from objects around us, but particularly so in the adhesives used to make furniture. The amounts present in furniture however, are harmful to not only the environment but also to our own health. They are known to be a common cause of allergies, migraines and can even lead up to cancer. The presence of formaldehyde is an alarming fact, since dealing with the repercussions of the same may give you an even severe migraine.
Keeping these issues in mind, EGGER takes careful note and creates only the kind of wood-based materials which is so low in formaldehyde, it has passed even the most strictest of tests and is of the best standard available in the market. ​Being eco friendly is not measured by material deeds, but is a wholistic lifestyle wherein one does the best they can to take a collective step towards a more conscious society. Speaking of a sustainable lifestyle, lighting and other elements also play a key role as will in building it.
Interior Lighting and Elements Trend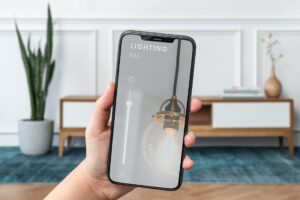 The days when a single light switch controlled one austere light bulb that was supposed to provide all the light in a single room are now all long gone. Nowadays, in interior design, people are gravitating towards a mix of overhead lighting, standing lamps, and mood lighting, these are strategically combined to create highly livable and convertible interior spaces to cater to changing needs. Natural lighting brings out the fullest potential of the colours and textures of your abode. If you are fortunate enough to reside in a home that receives plenty of natural light, be sure to maximise its capabilities! Some homeowners have to rely on artificial lighting to sufficiently light up their homes.
​
Additionally, people are going for pieces like rattan chairs and cabinets. Accessories like macramé wall tapestries, throws, and potted plants as well, to give their home and interior living space a more down to earth, naturally cozy feel.
Colours and Textures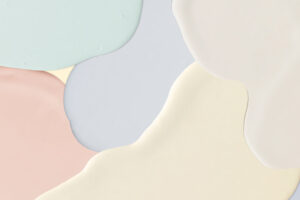 ​Neutrals and bright tans are going to be popular colour choices in Singaporean homes. Although a pop of colour can be a game changer, sticking to a clean simple palette has helped some keep their calm, specially through two lockdowns. More homeowners are now opting for cleaner colour palettes in home interior designs, with "comfort" and "timelessness" being key considerations in their colour picks for their living spaces. Whites, creams, beiges, pale to darker grays, and other neutral tones remain popular options. A sense of connectivity and cohesiveness between the different rooms of your HDB flat, must be common sense. Ensure that all the furniture and interior decorations that you bring into your humble abode complement each other and gels well. Choose a complementary set of colour themes for a favourable result that is not jarring to the eye, a mix match of different colour schemes would never go well. This depends on the interior design theme of your house, which could be ranging from fresh, natural and light to dark and moody.
At Ecubespace, we supplies surfaces in a wide range of colours and textures, a mix and match of 60 colours with different textures is bound to achieve the ideal look you are going for. Specifically speaking, on its neutral tone options.
It's the Little Stuff at Home That Counts
When designing a home, it is always important to pay attention to the tiniest of the tiniest details. as they make a world of difference to the final look of your home. Think of it as the finishing touch on a painting which makes everything come together. Through the change of subtle details, it will allow your HDB, condominium or even landed property interior design look fuller. Everything from light switches, the handles on your cabinetry in the kitchen, the texture on your wardrobe in the bedroom, the handles of the doors, the type of doors, the textures of your surfaces or your choice for your built-in furniture, or the type of types on your floor, the curvature of your kitchen counter etc and the list goes on and on. These details comprise of the crucial factor which will make or break the overall look of your dream home.
Ecubespace hence provides acute detail consultation on these matters in order to nail the interiors. Hidden handles, smart pull out cabinetry and providing attention to details are our expertise and you may leave it to us to leave your place polished like no other.
On top of the 5 interior design trends in Singapore we covered, there are many other innovative ways to remodel your space. If you unsure where to start, you can always speak to us to create the home of your dreams!