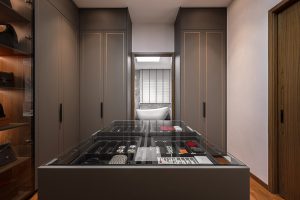 Carrie Bradshaw's luxurious walk-in closet in the Sex and the City sure had so many homeowners desire a bedroom design upgrade. How you wish! The neat racks of clothes, the sliding drawers exhibiting jewellery, the dedicated dresser and not to forget those dozen handbags and shoes lining the shelves. Well, you can squeeze a fancy walk-in wardrobe in your humble HDB home, if only you plan meticulously. Walk-in wardrobes make your home look opulent. Not only this, they keep all your belongings organized. However, they are an expensive bedroom interior design upgrade. Here are 8 tips straight from the experts to get one that is built to last.
Assess the Available Space
Where will you build the walk-in wardrobe? That's the first question you need to address when revamping your bedroom interior design. You can convert a spare room. The walk-in wardrobe can be built along a wall. You can make use of a vacant corner, the attic or awkward spaces. Consider the following: the layout of the room or space you intend to use, the amount of space available and the amount of space required. These values will help you design the best modular walk-in wardrobe.
Layout of the Walk-in Wardrobe
​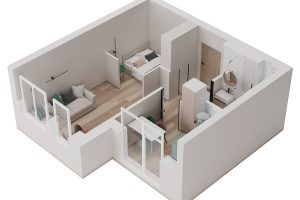 The classic option in a larger bedroom is the open-style walk-in wardrobe. Use a divider, stud wall or sliding doors to separate it from the main space in the bedroom. One thing to note is that with an open style closet, everyone gets a peek into the contents of your wardrobe. There is a galley-style walk-in wardrobe with cabinets facing each other. You can also choose between L-shaped and U-shaped layouts.
The two must-have traits of a good walk-in closet are functionality and accessibility. There should be enough space for smooth flow of traffic. The space shouldn't be packed so much that it feels small and confined.
Bedroom Design Storage Options
​Take stock of all the items you'd like to store in your closet. The common items include clothing, shoes, handbags, accessories and jewellery. Being of different sizes and shapes, they each require different storage mechanisms. Knowing the amount of storage, you need gives you a better picture of your walk-in wardrobe design.
For example, clothes sit better and occupy less space when hanging on rails. However, it would require more vertical space. Smaller items like socks, belts, undergarments are easier to find when stashed away in drawers.
 Mix up Storage
​Most Singapore interior designers recommend this to optimize storage space. Combine open shelves, drawers, hangers, and wired baskets. Glass cabinets are for accessories; they show off all those accessories while protecting them from dust.
Pull out drawers help hide away the clutter of unsightly undergarments. Keep the hangers and hooks uniform. Odd shapes and sizes look tacky.
Use the Vertical Space
​Smaller homes may not have much room to spare. Go all the way up to the ceiling with your cabinetry and shelving units. Here is where you can store seasonal items.
Add a Mirror
You can have your walk-in wardrobe double up as a dressing space too. Place a full-length mirror or a round mirror. Consider a free-standing unit. Or install one on the face of a wardrobe door.
​If there is enough space, think of adding a dresser and chair. Position the mirror strategically, where you can stand back and get a good view of yourself.
It Is All in the Details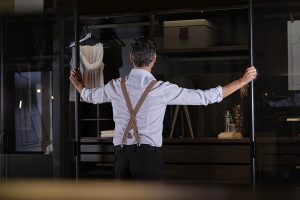 ​Play around with materials and finishes. You can extend the existing bedroom design. Lighter shades widen the place and reflect a lot of light. If there is enough clearance space, opt for hinged doors. Sliding doors are space-saving and hence practical in a small bedroom design walk-in wardrobe. Use dark-tinted glasses if you want to maintain your privacy. Slanted shelves are the perfect exhibit for your fancy shoes. You can add a flair to walk-in wardrobe design with ornate hardware. Add a piece of artwork or a poster of your favourite fashion icon. It will create a focal point in your wardrobe. ​To conclude, the right walk-in wardrobe can really enhance your bedroom design; it just needs the perfect balance of good looks and functionality.