​The year is finally drawing to an end, and for the first time In a few year's COVID's shadow is not spilling over the festive season full of celebrations, at home Christmas dinner parties, home decorations. ​Not to forget that right after the Christmas season, New Year's and then Chinese New Year is following right up, keeping us and the rest of Singapore's festive cheer on their toes. However, the cheer in the air is bound to reach indoors as we deck up our homes to invite our friends and family over to celebrate with us, over dinners which spill into late night parties.
If you happen to be renovating or doing up your home just in time for Christmas to be brought in, this article could give you ideas on how to get the decor done up so that you could combine your housewarming phase of parties with the onset of Christmas and the rest of the festive season.
Spruce up the Bartender in You
​If hosting people over or enjoying a drink for yourself is something you'd enjoy, investing in a bar / specific modular shelving to arrange your alcohol could be an idea which sparks a lot of memories, conversations and joy. A bar to have festive cocktails at the ready, making the experience of sipping over a cocktail classy and fun, all within the comfort of your home and the company of your friends.   An alternative some homeowners would prefer is to have a bar cart, the advantage being that it can be wheeled, the cart can follow the party from room to room if needed, holding people's drinks, snacks, glasses, napkins and even playing cards, no matter in which room everyone is gathering.
Upgrade Your Kitchen/Diner Lighting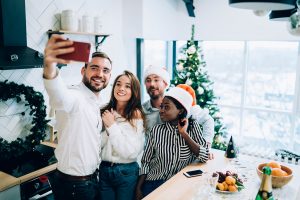 ​If you're up for cooking your people a meal and would definitely want to serve them the dishes warm and fresh, with that in mind, a host might tend to move back and forth between the kitchen and the dining in order to serve or plate. Another way to put it would be that if you're lucky enough to be the host for a big meal, chances are that there will be more guests helping out in your kitchen, However, whether you like it or not, your kitchen will become the main zone for your guests to gather and chat around. Therefore, it is important that the kitchen/diner area is ready for guests and is also well-lit. The most convenient and smoothest way to foster that moment is having a kitchen island. It gives your guests a space to speak to you while also giving you space. Homeowners might choose to add a corner or side drinks cabinet to the area and spice it up.
Another way to enhance the look of your kitchen or dining area is to upgrade the lighting. You can start by installing task lighting in the kitchen, as this will make the big task of Christmas cooking much easier. For decorative purposes, you may want to invest in pendant lighting or a chandelier which will act as a focal point above a dining table, enhancing the experience of your dinner table conversations and adding an intensity to it.
As a tip, installing new light fixtures, you need to make sure they are installed correctly. Hiring a professional to install your light fittings will ensure that they are safe and long-lasting. This is a quick and easy job for a professional, as it will only take around an hour to complete.
Don't Go the Basic Way for X'mas Home Decorations ​​
Doing up the front porch with a wreath and lights, stocking up the bar cart with seasonal libations, and setting the table for a festive dinner. Even the tiniest of touches can make your home both more inviting to guests and make them feel welcome and jolly. Although red and green are a classic, one does not need to commit to traditional decorations. Even if you're getting ready for the annual Christmas party, there are plenty of other seasonal palettes to choose from. Letting go of the green, red, or even blue does not seem like a big task if you can nail the other colour schemes Instead. Sticking with bright golds either matte or with sequins and sparkle and a touch of blush to elevate the season could make you the creative kind of host who thinks out of the box.
However, saying that there are ornaments, no matter what winter holiday your guests might celebrate, this garland will feel inviting, and it can help transition your home from Thanksgiving to New Year's, Gingerbread houses will never go out of style, adding all these up, you've probably got a solid foundation for a winter wonderland. That being said, there is always room for twists, such as Christmas baubles in fine bowls and glass jars and added to them, vignettes composed of candles. This is Another way to use ornaments in unexpected ways is to opt for unique holiday themes.
Although having a fireplace does not make any sense in the average Singaporean home, and hence mantles, which are so common in western houses, decorated beautifully could not be achieved in this part of the world, It is still not an impossible thing to achieve symmetry or balance, since that is essential to achieving a focal point on your holiday decorations.
​Most importantly, It is a time to cherish and enjoy since humans only get a number of chances to celebrate Christmas. Open the bottles of mulled wines and enjoy the night away as the festive season brings happiness to all hearts and homes!