Proper lighting is the difference between a dull home and one that has others drooling over the interiors. The perfect combinations of ambient, task and accent lighting can transform your space. Lights set the mood of your home.
They make it a warm, comfortable and functional space. They bring your room to life. If you are going into a remodelling or renovation soon, you sure will be overwhelmed by the selection of lights, for the choices are endless.
In this short article, we discuss the different types of ceiling lights based on how they are mounted. Ceiling lights help light up a broad area; the light is not concentrated on a particular space like task lighting. The light tends to be more dispersed and serves the purpose of ambience lighting.
Flush Mount Fixtures Lights
​
Flush mount fixtures pair well with a modern, minimalist interior design. As the name suggests, a flush light is mounted directly onto the ceiling leaving no space between the fixture and the ceiling. Depending on the design, they may protrude slightly.
They are great for lighting up a larger space; however, in the case of smaller flush mount fixtures, you may need to increase the number of lights. The compact fit makes it ideal for a smaller home with a low ceiling. It is easy to maintain too.
Semi-flush Lights
​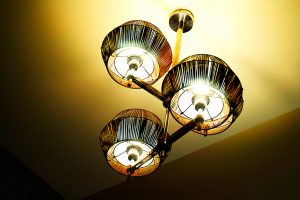 Desire a hanging light but not interested in a chandelier? Checkout out semi-flush mount ceiling lights. They are an option if you have a high ceiling or moderate height, no false ceiling.
Semi-flush lights are not fitted directly onto the ceiling but at a little distance below. The light is supported using single or multiple down rods. The reflection of light upwards brightens the room further. With semi-flush lights, you have a great variety in designs.
Recessed Lights
Recessed lights fit into a niche or a cavity made in the ceiling. It requires a clearance of at least 4-5 inches into the ceiling to accommodate the entire light fixture. Hence, they are often fitted onto a false ceiling.
The only components visible are the glass panel and the trim. A recessed fixture spreads the light out evenly and does not give rise to shadows.
Recessed lights must be fitted away from the fan to avoid flickering. Recessed lights are perfect as ambient lights. There are designed to be adjusted for angles and brightness.
Cove Lights
Cove lights are invisible lights. They are mostly decorative lights that serve to produce a very soft glow in the room; it is not suitable for a functional space that needs task lighting.
A cove light fits into a recess or ledge-like frame of a false ceiling. Thus, the fixture is completely hidden. Unlike recessed lights, these fixtures disperse light by reflecting it upwards, on the ceiling.
Chandelier
Nothing styles says 'opulence' like a crystal chandelier. There are different of chandeliers – candle, shaded, drum, crystal, empire, globe, geometric, sputnik and globe – to complement varied interior designs.
A chandelier gives a room its own personality. You can fix one as the centrepiece of a room, over the dining table, or in the hallway.
​Geometric designs pair well with modern interiors as they are not as ornate as their crystal counterparts.
Pendant Lights
Pendant lights are the perfect blend of aesthetics and functionality. A pendant light has a single bulb thereby concentrating light on a single area; they do not light up a wide area. This makes it an option for task lighting.
There are inverted pendant lights too. They are so called because of their inverted shades that point the light upwards.  A pendant light is suspended from the ceiling by means of a rod or chain. It can be fitted over a dining table, a kitchen sink or a study table. However, we wouldn't recommend a pendant light for a lower height ceiling. Pendant lights are easy to install and maintain.
Track and Rail Lighting
​A track and rail light features lights fitted along a track or rail in a continuous line. Thus, it is single fixture with multiple light mounts. Track and rail lighting are categorised as accent lights. They are fitted in places where there is need to focus light on a specific object or area.
The lights can be swivelled as per requirement. Thus, it provided multidirectional lighting.
Have a piece of artwork you want to highlight? Install a track and rail light. You can also use a track light to accent a wall. It makes a great addition in kitchens and bathrooms as well.