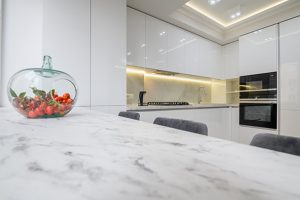 ​If you are planning a kitchen design revamp, countertops sure call for special attention. These platforms serve as a prepping or plating station, resting space for hot vessels, or the housing for a cook-top or sink. Not to forget, this is also where you sit your kitchen appliances for easy access. Therefore, there are some key qualities to look for when choosing a kitchen countertop. It should achieve the desired aesthetic, should be easy to maintain, resistant to water, heat and humidity, and durable. When we think of kitchen countertops, we rarely go beyond the sleek finishes of marble or granite. This article explores the countertop material options that will transform your HDB kitchen design.
Quartz
​
Quartz is engineered stone – a blend of crushed quartz particles and polymer resin. Its greatest advantage is its non-porous surface. With a variety of liquids used in the kitchen, this is always a concern. It does not require any kind of treatment. Quartz does not stain or scratch. It is not impacted by heat or acidic substances. It is extremely easy to maintain. The wide range of colours in Quartz give you both the look of natural stone and the durability of a manufactured product. Need we say then that it is a popular material for modular kitchen designs? On the price point, Quartz is expensive but sure the best value for money.
Natural Stone – Granite and Marble
Nothing beats the luxurious feel and look of natural stone. Marble and granite incorporated in the kitchen design can make the smallest spaces look opulent. In fact, there is a growing preference for marble and granite in home renovation Singapore. These solid surfaces create a sustainable kitchen design. The granite grains are attractive and varied. It is also heat resistant. Most homeowners settle for granite as it is cheaper than marble. Polished granite has a sheen while the honed variety has a matte finish. There are two downsides to using natural stone. They must be sealed regularly to prevent staining. Marble and granite are heavy and hence the supporting structures (your cabinetry) should be sturdy.
Laminates
​
Want the good looks but don't have the extra money to spare? The economical yet striking laminates fit the bill for your kitchen design. Laminates are layered Kraft boards coated with melamine resin. ​They mimic high end looks – wood veins, granite grains, or solid colours. They are non-porous and a single wipe with water and soap will ensure its spotless and clean. Laminates however, rate low for durability. Common complaints include stains, scratches, and burns. Some laminates might also warp and peel off over the years.
Stainless Steel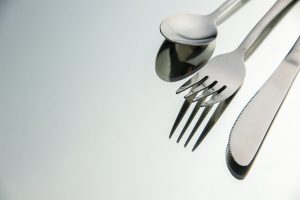 If you thought stainless steel was for commercial-grade kitchens, you are mistaken. You can soften the cold, industrial look of stainless steel by a careful selection of cabinets and flooring. It is the perfect minimalist look for an HDB kitchen design. Stainless steel is a heavy-duty material. It is a low-maintenance, heat-resistant and customisable. It is also extremely hygienic; you do not have to worry about bacteria build-up. Stainless steel does not take impact well and scratches and dents easily. Overtime, stainless does lose its sheen. The cost of fabrication could mean you end up paying more.
Wood
​
Wood gives a kitchen design its unique character. It adds warmth and a rustic feel to your space. It is an eco-friendly option too. Oak and maple are popular choices across kitchens in Singapore. Quality wood has a good life; and with proper maintenance will last a around 20 years or so. Wood is not damaged by heat. However, its high porosity is its weakness. In the absence of a non-toxic sealant, wood absorbs all the moisture causing damage. Temperature variations could swell and contract the wood, resulting in structural issues. Food spills might also leave stains.
Solid Surfaces
Better known by the trade name, Corian, solid surfaces are a manufactured countertop material. This material is a thick layer of synthetic acrylic mixed with natural minerals. The result is a non-porous, low-maintenance, durable, antimicrobial material. Along with countertops, solid surfaces can also be used in cabinet door designs and for back splashes. The addition of colourants to the mix gives you a great selection to choose from. Solid surfaces are not resistant to heat or other forms of impact. Thus, making them susceptible to burns and scratches. However, the damaged surfaces can be sanded down as a quick fix to make them look new. There are other materials such as concrete, soapstone, ceramic tiles and glass that also prove a suitable choice for kitchen countertops. In the end, there are three things that dictate your choice – the look you want to create, your usage and budget.
Sintered Stone
​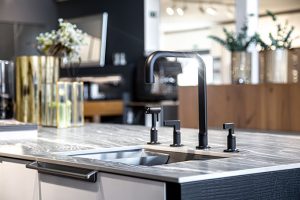 Similar to Quartz but more expensive, it is a product made from natural stone. The different is that Quartz has around 88% to 95% of natural quartz stone mixed with pigments, polymers and resins, while Sintered stone is made entirely from natural materials through the process call sintering. Sintered stone are extremely strong and provide ultra-heat resistance and stain resistance. Making them one of the new popular selections among end consumers.
So, have you decided which kitchen countertop material that you want for your home renovation in Singapore?