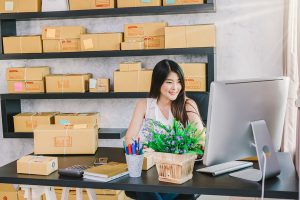 ​Marie Kondo said it right in her book about the art of decluttering, although you can get the right tables and chairs, your productivity might get to the lose end if storage is not accounted for properly, therefore it is important to plan ahead way before the renovation start by taking to the interior designer. Efficiency and focus very much depends on the space around you and hence on your ability to maintain an organised home office. A desk space that's clutter-free and productive by choosing the right storage is a gift of God, especially with, most companies shifting to hybrid working style, post the pandemic.
Efficient storage helps you keep your essentials in place at home. Notice that an untidy room isn't just an eyesore but also a hassle to work from home since everything isn't accessible enough? It's always going to take some extra buffer time to remember where you had kept that stapler that you so urgently need at the moment. If it takes you minutes going from corner to corner to find a supply that should just be within your reach, it's time to rethink your home office storage before the actual renovation start.
Tailor Shelves to Fit in a Space Made for Your Desk and Home
​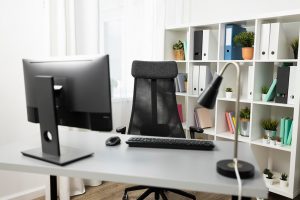 The secret to storage working well at home is well executed customization, before you install shelves along your desk wall, take some time to work out what you want to store. Sort through your items, recycling anything you don't need and relocating things that aren't used in the office. Once you've done this, you should have an organised collection of items that need allocated storage, eliminating unneeded items. Although, gone are the days that people needed traditional filing systems, but there might just be some hard copies that you'd want to keep around. To keep these paper files organised, invest in a secured filing cabinet with multiple shelves to secure all the papers in place. There might be instances where digital files just do not cut it.
Utilise your vertical area, as you make the most of your space, by installing shelves or hanging some filing units on your wall this could be easily achieve using modular storage built-in furniture. As much as possible, keep these hanging shelves close to your table for easy access. It would be useful to store the things which you need on quicker or more frequent bases in the drawers of your desk and not the top shelves, for easier access.
Let the Office Furniture Roll ​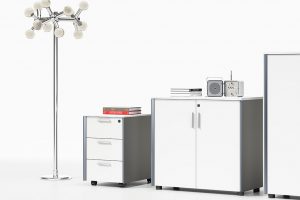 ​Another accessible filing unit is a mobile pedestal. This compact home office furniture offers small storage compartments for pens and other small office supplies, handy items which have regular use. It is optimum since they can roll around, tuck in perfectly under your desks, even serve as a leg rest on the days you'd wish to stretch out and can be fitted into other parts of the room when needed. Suppose you have to fit in another chair from the opposite side of the desk, it could be easily placed outside, against a wall.
Desks, Not Tables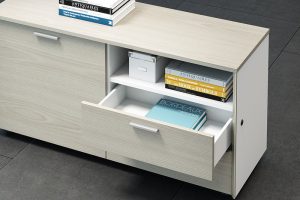 Getting a customise table unit that comes with built-in storage. Some office table have attached shelves, pull-out drawers, or cable organisers can prove to be far more long lasting and sturdy, You may get this built in while you are devising the furnishing for the rest of your home.
​Although desks with attached storage are bulkier than standard study tables, they will surely make storing easier and give your office a solid and humble look.
A Space for Your Creative Outburst ​
​One of the only ways to make a desk uniquely yours is to let your creative mind run wild as you'd wasn't to experiment, display a few personal items which mean a lot to you on a peg board above your desk. This could help to great amounts in keeping you motivated and disciplined, as you could hang on a quote which speaks to you. It being in your range of vision at all times as you work could keep you hustling and feeling for productive. Squeeze in storage to your limited space by installing a pegboard for your stationery and small electronics. Hang a cork board and some open shelves to anchor the board.
​
You could even get your creative hands and minds working by making your own tit bits of storage. Old glass containers, jars, canisters, or tissue tubes can be transformed into pen holders, pen holders hold the most ground for DIY and customisation.
Cords Are Guitars, Not Offices​
​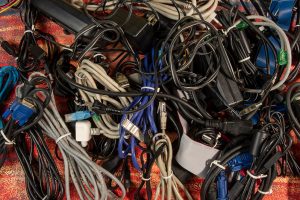 Your home office cords and cables can sometimes be so evil that they seem to tangle on their own and mess your entire home office. They are often a visual hole even if your home office is already organised, but what can you do? You need these cords for your setup to function and be the power house of your work and set up. Cord organisers that you can stick to your table can help you organise your wires without ruining the overall look of your office. After all, a decluttered mind is manifested only through a decluttered environment.
Add an Extra Surface
​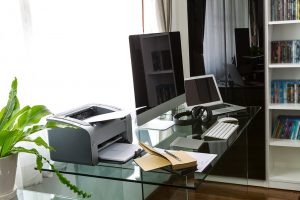 When you're devising storage for your home office, don't forget to make room for the printer, It could ruin the aesthetics of your office if it's constantly in your field of vision, but you'd still need to ensure functionality as it's use could be on and off throughout the day. If you don't want this bulky item to take up room on the worktop, you could incorporate an additional surface instead. A low shelf next to your monitor, allows the printer to be located right next to the workspace, and there's even more surface for storage or display alongside.
Happy working at home!