Veron, our interior/kitchen designer once expressed her love for all her small appliances: a mixer for baking, a blender for smoothies, a sandwich toaster, a rice cooker, etc The list goes on. But the truth is she often struggles to find a place to store them in the kitchen, which makes her a part of a clan. It's very common for people to lack kitchen storage space, however, the solution is only always a few clicks away. If you find this relatable, perhaps it's time to deck out the cabinets, drawers, and island with space-saving modular kitchen cabinetry solutions. You just must rethink those little nooks and niches, and you'll discover the untapped resource of counter space and shelving. When small appliances are scattered around or shoved in any old nook or cranny, they can end up being neglected and under-utilized because it's just too hard to get them out and ready for use. The trick, I've come to realize, is in finding spots where appliances will be kept out of the way but always accessible.
Some of the ways in which you can optimize storage in your kitchen are listed below:  ​
Kitchen – Coffee Station
One of the most practical storage places for the most regularly used small appliances in your kitchen, such as your kettle and coffee machine, is a open cabinet, especially at the wall end or in a corner of your kitchen. This allows you easy access to your appliances but keeps them out of sight when they're not in use. This gives a dedicated space for your afternoon coffee sessions and also compartmentalizes it away, expanding its accessibility to anyone at home, not necessarily the chef in the main kitchen. It's usually advisable to also install a power point at the back of the cabinet so that the appliances in question can be left plugged in and ready to use at a moment's notice. This decreases the effort it would usually take if it were to be all a part of the kitchen and the appliances had to be dug out from another shelf.
Kitchen – Corner Cabinet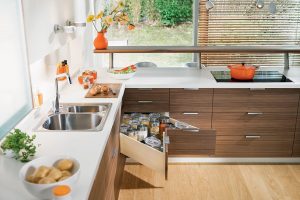 When it comes to kitchen layouts, efficiency is key. We spend a large amount of our time in the kitchen, so it makes sense to put a lot of thought into it. In fact, the average Singaporean spends over 225 hours per year in the kitchen! So why waste more time trying to navigate around a poor layout?
A corner cabinet is one of the most awkward things in the kitchen. However, if its internal space is planned carefully and put to good use, a corner cabinet can be one of the best places in which to store items. A user-friendly conventional corner solution is the Space Corner. This mechanism from Blum uses every inch of available storage space and provides clear visibility of items stored, allowing full access to the user to gain easy access to the items being stored inside. The goal of a kitchen should be functionality and ease of access so you can spend more of your time doing the things that matter to you.
(Photo: Blum Space Corner)
Kitchen – Appliance Lift
Lifting stored appliances out from under-counter cabinets is made easy with this clever little contraption. A specially designed appliance lift is such a simple concept, but it works so well, especially when tied together with corner cabinet designs.
​It saves you the trouble of bending over and picking up such heavy items, fret not, the day when your kitchen design works for you is right here.
(Photo: Hafele Lift Mechanism)
Kitchen – Deep Drawers
A perk of opting modular kitchen over traditional kitchen is the ease of customization. Depending on the specifications of your kitchen space, it is advisable to go for deep drawers.  If you don't have space in your kitchen to create a designated appliance center or worktop cabinet, consider storing your appliances in a deep under-counter drawer. Storing them in a pull-out drawer will make it easier to find what you're searching for. Opting for drawers allows you to section out your storage needs, offering you more cubic storage!
(Photo: Blum Legrabox Drawer)
Kitchen – Walk-in Pantry
Late-night binge eating and snack cravings are so much more pleasure- full if it take place in a dedicated space.  Everyone craves a big kitchen with a large walk-in pantry, such as a butler's pantry.
​If you are lucky enough to have the space to incorporate a separate one into your kitchen plan, then this could be the perfect place to house all your small appliances and snacks, however, don't blame us if you find your children flocking there when they're supposed to be studying.
Kitchen – Magic Corner
Magic corner kitchen cabinets are a revolutionary mechanism to the kitchen's layout in order to optimise the space in your kitchen. They provide an excellent system for kitchens with limited storage spaces as they utilise the dead corner areas under the joints of your kitchen counter.
This is treasured even more by homeowners with smaller kitchen spaces. They usually come in two trays. Out of which, two trays are attached to the inner cabinet and two attached to themselves.The trays can be easily swing out for hassle-free loading and unloading, making accessing easy and convenient.
​
You can use these trays to store tableware, pots and pans, or some utensils that are not of regular use. This frees up spaces in your pull-out units, drawers and cabinets for storing daily essentials. You can also use the top tray for storing groceries and spice bottles, while the bottom be used for vessels, pot and pans. This way, all your spices and supplies will be within reach, making your cooking time fun and easy.
Kitchen – Install Hooks to Hang Mugs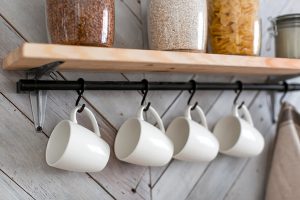 ​Mugs are essential for morning coffee, afternoon tea or any beverage of your preference, a regular household owns at least about 10 of them. Although they're so frequently used and washed and their designs are so versatile and personalized they also come with a great disadvantage of taking up way too much shelf space for their size. On top of that they don't even stack well. A simple solution for this is to install hooks under a shelf or cabinet and hang mugs by their handles. Through this you tap on to the vertical space in your kitchen and increase its accessibility. These hooks also save the space in your drawers for something else. Additionally, these hooks can give you a rare opportunity to flaunt your wine glasses near your home bar.
To conclude, it is evident that a kitchen's ergonomics and efficiency are dictated by each and every individual element present in your kitchen. The way shelves are opened, pots lifted, the depth of your drawers etc make a large difference to the way your kitchen operates on a day-to-day basis. Hence it is necessary to understand its gravity and make sure that every element of it is well thought out and personalized to the way you would cook, your cuisine choices and the general way you would use your kitchen. At Ecubespace, our Modular kitchens are smart and adaptable, they come hand in hand with great fittings provided by Blum, Hafele and Hettich, these companies together with our modular solutions and Interior specialist team provide the best hacks to a functional, efficient, well designed and aesthetic kitchen.