Fashioned in angled, curved or rectangular designs, Bay windows are known for the most striking outdoor views they offer. These paneled window constructions also ensure your room is well-aired by allowing cross ventilation.
However, most homeowners consider these bay windows a waste of space. They fail to visualize how they can incorporate them into their living, kitchen or bedroom interior design, leaving the space unused. Given that a bay window extends outwards, it already adds floor space for you. And, with just the right touches, it will become one of your most loved HDB renovations decisions.
Here's a list of ideas from our in-house Singapore interior designers to transform your bay window into an elegant, picturesque and cozy space.
An Office/Study With a View
Smaller HDBs don't usually have the additional room to allot for a study or office. You can set up your work or study table right over your bedroom bay window.
You will get plenty of light and amazing views to look out onto. Add a comfortable chair, lampshade, office stationery, some shelving and drawers. Voila! You have your personal workspace or study station.
Modern Classic Living Room Centerpiece
The Modern Classic construction and design of bay windows might leave you with awkward nooks, that may be difficult to convert into a functional space.
Your bay window could simply serve as an accent in your room. Refine it with personal touches – cushions, plants, wood grains and textures, covers and upholstery. The beauty of a bay window often lies in its frame design. Experiment with free-flowing designs for the space.
A Reading Nook for Your Bedroom Design
Do you like curling up with a book in bed? This time do it while taking in the breathtaking scenery from your bedroom window. Transform your boring bay window into a cozy retreat.
Think of a custom built-in bench seated in the interior space of your window. Liven it up with brightly coloured upholstery or throw pillows. Or simply, extend the colours of your bedroom interior design.
Breakfast Counter or Coffee Corner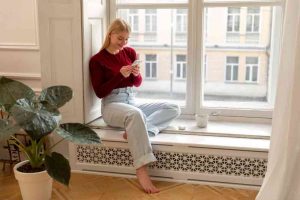 Kitchen designers often consider this possibility if a bay window is in proximity to the dining area.
Forgo the cozy, upholstered seat for something sleeker and more polished. You can utilize the same countertop material used across surfaces in your kitchen.
Window Seat-cum-storage
The goal of most HDB renovations is to maximize space.
A custom-built work bench that doubles up as storage is a practical furniture design in a space-restricted HDB. It could be fashioned with doors to conceal its contents much like a kitchen cabinet door design. Or, you can build it like open shelving and store contents in baskets that can be stashed beneath.
Dinner Table by the Window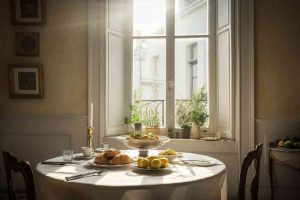 Dine with a view. A smart dining space by the window can spruce up your HDB kitchen design.
You can set up the dining table facing the window. Additionally, the window ledge can be used to supplement chair seating at your dining table.
A Platform Sofa for Your Living Room Design
It's a spin on a platform bed. It is possible that a new bay window construction in a HDB might not have added square footage but instead used up existing space.
So, take advantage of the ledge of your bay window. Build a sofa over it. Swap the sofa with a platform bed in a small bedroom design.
Diaper-changing Station
What better design inspiration in a baby's nursery than a diaper changing station! Create an exclusive diaper changing station. It should be fitted with a firm and stable, thin mattress. A washable cover is ideal for accidental spills and smears. Incorporate drawers to hold your baby supplies and keep them at hand.
A TV Unit
Speaking of a modern living room, the TV unit is an important piece of furniture. The designs could be fixed or could be a standalone unit. Those who do not have the budget for an extra TV unit, can use the seating space along the bay window to place a TV unit.
Home Garden for a Modern Interior Design
With an abundance of sunlight, the bay window is the right space for a tiny home garden. Choose carefully a variety of indoor potted plants. Bringing in nature is a design trend in modern homes.
Don't limit yourself when it comes to reworking the design of the windows for your HDB renovations. Plan ahead and decide which of these design ideas work best for your bay window.