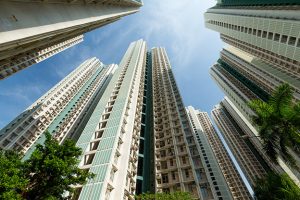 ​4-room HDB homes in Singapore have an average size of 85 to 95 sqm. Built by the Housing and Development Board, these humble abodes provide comfortable and cosy housing for smaller families as well as couples. The stock layouts, fixtures and fittings across HDB homes, irrespective of size can get monotonous and boring at times. The right choice of layouts and design elements can refresh the look of an HDB. Here's a list of practical, cost-saving and impressive ideas you could consider for your HDB renovations. Your 4-room HDB Renovations should start with a few considerations. The first involves identifying the existing floor plan. The regular layout has a designated adjacent space for the bedrooms and a bomb shelter by the entrance.  Alternately, though not common, the bedrooms might be built at the far ends of the HDB.
Modern floor plans do away with extra room, in return for extended living room or master bedroom. There are homeowners who have converted extra space into a balcony. Finally, also check if the bathrooms have been separated or placed side-by-side.
The floor plan you are working with will dictate the costs of renovations. It will also influence the extent of the structural changes you may have to make in order to incorporate the changes you want.
4-room HDB Kitchen Design With Cozy Dinning Area
Whoever said an HDB did not have space for a separate dining area! It does and it needs one. Steal some space from your living room, if its size permits. Convert it into a small, cozy dining space. You can opt for a seamless look or show the division by changing design elements. For example, different wall colors or switching the flooring.
Have a bigger kitchen? Think about including a dining set there. Keep this space non-cluttered.
Opt for Natural Element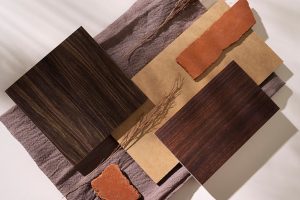 Wood is warm.  Wood looks classy.  Wood will never go out of style.  With their myriad shades, textures and stunning grains, they add character.
You can set the tone of your room with wooden elements. You can build furniture – kitchen cabinetry, TV units – in wood. Wooden floors are fast catching up as a modern interior design trend too.
​
We've seen homes make creative use of wood, especially natural looking wood like the Feelwood series, as walls.
Tear Down Those Walls
Walls segregate spaces, but they eat up space and create a boxed in look. For a more open floor layout, bring down the walls.Use Bi-fold doors instead. They really create the illusion of a larger space even when closed. The other option is to use sheer and opaque curtains.
Glass windows do a great job in opening up the space too.
Neutral Palette in Living Room Design
A neutral palette – greys, off-whites, beiges – will lend a crisp, spacious and airy look. This is the perfect colour scheme for a living room. Reserve colors for the bedroom design. There is always scope to add color – an island, a sofa or simply a rug.  Designers also recommend working with two colors across the space. It looks stunning.
A bright pop of color in the form of an accent wall fits a contemporary design.
Utilise the Bomb Shelter
Singapore has mandated bomb shelters in all apartments. Given the rules, you cannot modify the bomb shelter. Building outwards is the only way to improve its appearance. A full height cabinet or a display shelf will hide the unsightly shelter as well as add storage space. Use a suitable wallpaper so that the bomb shelter door can blend with the rest of the interior design. Conceal it with a sliding door or concealed door. The sliding door ensures there is no need for clearance for a swing door. Decorate the wall. Want to keep things simple? Paint or decorate the door to look stunning.
Furniture Against the Wall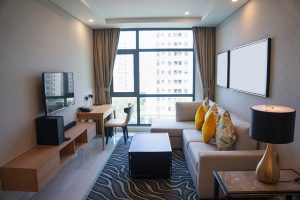 Furniture, no matter how minimalist and sleek, occupies space. Placed in the middle of a walkway, it leaves you with less place to move. Most Singapore interior designers recommend having all the furniture propped up against the wall.
​
It ensures free and smooth movement of traffic.
Convert an Extra Room
​Might be hard to come by, but if your 4-room HDB has an extra room to spare, modify it to change its functionality.
​
Convert it into a dining area, or an open study.  It could also serve as an area to entertain your guests.
Extend the Bathroom
In an HDB, the bathroom interior design must conform to the specified rules; as such one cannot make too many structural changes. For homes that have the bathrooms placed side-by-side, the two can be combined into a single bathroom furnished with a bathtub or shower unit in addition to other sanitary ware.
​
Still in doubt? Rope in a Singapore interior designer to assist you. Plan your HDB renovations to the last detail and you will be surprised by the outcome.