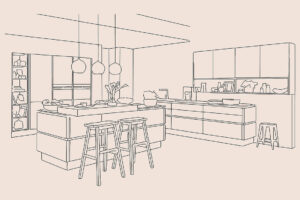 Just bought your dream home or want to give your existing kitchen a new look? If so, then you definitely have a few crucial decisions to make.
The main question is, do you want to get a conventionally made kitchen (one that's crafted by carpenters using the traditional method) or something more upscale and efficient aka modular kitchen (crafted using advanced CAD/CAM software and advanced woodworking machinery)?
Modular or Conventional Kitchen?
​In this article, we'll go through the pros and cons of both modular and conventional made kitchens to give you a clearer insight and hopefully allow you to make the better choice that fits your needs.
Modular kitchens are formed by modules or a cabinet system unit where they are fitted together to create a fully functional kitchen and is premade in the factory and assembled on-site based on the space usage – which means minimal construction and purely just installation on-site. As a result, this generates less mess and keeps the installation process shorter and cleaner.
What Is Modular Kitchen?
The modular system has a long history in Europe (same system utilise by imported kitchen) and is made up of a variety of different module designs incorporated with advanced fittings that are customised to the user's lifestyle needs.
The modular system also gets the best out of your available space with maximum storage space. Modular kitchens are also sleeker and neater as their features are machine-made with precise sizes and finished to perfection with consistency.
When it comes to a modular kitchen setting, all kitchen essentials, such as your refrigerator, microwave oven, conventional oven, pots and pans, will get a designated space through effective space utilisation which is made convenient thanks to the modular system. ​
Each module can be personalised to your lifestyle needs, from its design, colour, texture, pattern, to the size and shape – all of which helps you to turn your kitchen design ideas into a reality. If you decide to go with a modular kitchen, just take note that it will be slightly more costly compared to a conventional kitchen. ​
What Is Conventional Build Kitchen ?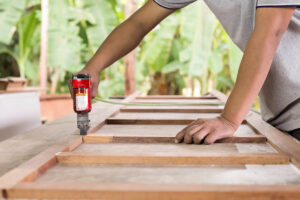 Conventional kitchens are built from scratch by locally available carpenters that follow a traditional/manual method of building kitchens.
It is a more relatable technique as it is the age-old method when it comes to building a kitchen and is cheaper than modular kitchens as the designs usually follow a set standard, thus making them more economical.
However, the lower costs of conventional kitchens come with a handful of disadvantages. Firstly, they generally lack in looks and style as its building process involves manual fabrication, cutting, drilling and finishing processes.
Therefore, the final outlook will very much depend on the workmanship of the carpenters. Plus, tailoring the kitchen according to your lifestyle needs will require a much higher cost. ​
You will also have to encounter challenges such as, your kitchen not being able to cater to your lifestyle needs, outdated ideas and designs, cost fluctuations, poor indoor air quality as the adhesives and raw boards used normally contain high formaldehyde emissions at unsafe level – especially when it comes to ​conventionally built kitchens.
With all this information, you are now well equipped with the knowledge of pros and cons of modular and conventional kitchens. Modular kitchens are your go-to if you are looking for factors like convenience, less maintenance and a cleaner finish.
On the other hand, if you are a little tight on your budget, then maybe a conventional kitchen would be the better choice for you. However, as the cons outweigh the pros when it comes to conventional kitchens, we strongly recommend that you take some extra time to save up a little more funds to get yourself a modular kitchen.