​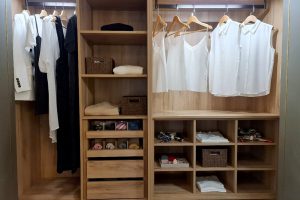 All of us have watched movies and wished we had wardrobes like the one in Devil wears Prada. We all have dreamt at least once, of owning a trendy and stylish walk-in wardrobe. After all your wardrobe is one of the most used built-in furniture pieces in your bedroom, after the bed of course. Why would it not be? After all, it stores your favorite high-end shoes, ripped jeans, cocktail gowns, the knitted sweaters which your grandma made and the statement handbags which gives all your outfits it's accent. It stores everything use to express yourself, given this, why should the wardrobe itself fall short? Picking a suitable wardrobe design can make your life simple with convenient storage options. Here is a list of reasons why the modular way is the right direction to head towards.
​Firstly, modular wardrobes utilise space efficiently and smartly. Talk about saving room space when your wardrobe is built to fit seamlessly into the room without being too big or too small, but just right. Modular wardrobes can fit into tight L-shaped corners or can even spread all around a window to make the best use of space in the room.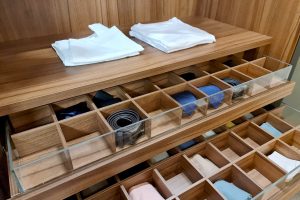 ​Going modular lets you exhale and relax as it saves you the energy of having to repeatedly deal with multiple vendors, and traditional carpenters who take ages to install the furniture in your home. ​You hence save a lot of money and effort. If by chance, some breakage or damage were to occur, the way you would handle it if you were to have chosen the modular option would be much simpler and efficient, additionally, as a modular wardrobe price is a one-time investment, you do not have to spend again and again on different wardrobes, since it is based on a convenient plug-in and play system, which honestly, has never hurt anyone.
If you're secretly, a Monica from friends and organisation is your life's greatest passion, then modular wardrobes are the way to go as it provides the proficiency to personalise the internal configuration and storage accessories to meet your individualistic needs and requirements. for instance, if your outfit collection is mostly formals, you can reflect that through your wardrobe and have the modular wardrobe be made to have sliding doors with more hanger space, trouser racks, and storage bins on the side for accessories, otherwise, if you're big on shoes or sneakers, you could have your modular wardrobe be customised to you by adding more display shelves or racks within the cupboard's space.
​
The flexibility and freedom to design your storage solutions is limitless. By adding on the elements, you want and omitting the ones you don't, you can achieve the wardrobe of your dreams. Modular closet organisers and wardrobes consist of different sections, pull-out drawers, hanging rods and compartments that help in storing your outfits and other accessories, keeping you well-organised and managed. You can also position the height of the internal shelves such that they are easily accessible, this in turn makes the overall design of the wardrobe much more efficient, not leaving you scrambling for that other pair of earrings you want to wear as your cab is waiting outside for you to leave. If well kept, with modular wardrobes, you will never be late to an event because you "could not find the dress" you needed.
​Moreover, the interiors of your home call for consistency across all rooms and built-in furniture, after all it's a unified space for you to call home. Modular wardrobes make it easier to achieve different bedroom interior design styles that fits you, to do so by being able to match the texture, colour, and styling of the room. It introduces a modern and sleek look to your interiors which eventually works with the bedroom design.
​
You can even get down to the details by customise the exteriors as well as the interior finishes, the handles, the hardware, and intricate details, these are the little details which can change the entire look of the wardrobe. You can even go to the extent of adding lights in dark corners so that you can access your wardrobe in the dark, without turning the lights on. The glass fronts for daily use pull drawers make a wide difference as well. Be it you own an old home, planning to buy a new home or build one from scratch or just revamp your space to freshen it up, the modular built in furniture is a perfect style to choose for enhancing the look of your bedroom, bathroom, kitchen and the side accents of your home as well.
​​Adding this all up makes your bedroom more beautiful and richer which in turn elevates your lifestyle and uplifts your standards of living. The up to date features a modular wardrobe are a perfect fit for a contemporary styled home of this generation. If we're evolving, so are our homes.