Painted, stained, solid wood, or melamine-faced chipboards are just a handful of the finishes for your cabinet door fronts.
It could be the simple tweak that could upgrade your kitchen without costing you an arm and a leg. Depending on the material you choose, you could achieve a high gloss or matte finish for your cabinetry.
Here's weighing your options when it comes to selecting the right finish for your cabinet door design.
Painted Cabinet Door Fronts
A fresh coat of paint is your best bet. It is a versatile and a budgeted option. You can keep updating the colours to match the trends to create a more contemporary look. Paint also conceals the imperfections present in the natural grain.
There are matte, semi-gloss, satin and enamel paint finishes to select from. A matte finish sits more flatter on the cabinet door and shows dents and scratches more visibly.
A semi-gloss balances the matte-gloss look, while you can opt for an enamel finish if you want a more polished look. Paint is high maintenance as it could crack and peel. No doubt, a coat of varnish will make it last longer.
Wood Stains for Your Cabinet Door Design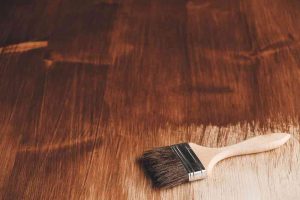 Want to refurbish your wooden cabinets without having to spend too much? This coat of semi-transparent pigment enhances the natural grain of ordinary wood, lending a touch of opulence. However, this feature also highlights blemishes if any.
The same wood stain could produce a unique final result depending on the base wood. It is unlike regular paint, that cracks and peels or laminates that swell and shrink with moisture. The chances of fading are fewer; it can be easily retouched too.
It is great for budgeted HDB renovations and those seeking low-maintenance materials. It is as easy as wiping down with a cleaner. It doesn't pair well with particle boards.
Melamine-faced Chipboard
Melamine-faced chipboard, or MFC, as it is popularly known finds application across construction be it cabinet carcass or door fronts and partition panels. And most of the imported kitchen from Europe are using MFC as well.
Melamine-faced chipboard is a commercially engineered composite wood made by combining wood chips, synthetic resins and adhesives. The chipboard face is finished off with a heat-bonded, pressurized melamine plastic.
The quality and thickness of a Melamine-faced chipboard depends on its intended use. There are several advantages of using melamine-faced chipboards, especially in the kitchen. Most of important of all, it is moisture-resistant and does not warp with moisture. The melamine skin makes it non-porous, gives it a silky-smooth finish and makes it super easy to clean.
You do not have to worry about delamination, scratching, scraping or staining the surface. Given that MFC wood is manufactured using wooden chips, it is a sustainable option. The myriad colours and textures of melamine faced chipboard let you create a look of your choice.
Laminate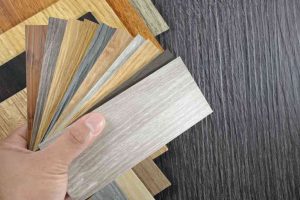 Vibrant, easy-to-maintain, durable and cost-effective are the key attributes of laminate cabinet door fronts. Available in a range of colours, patterns and wood grains, laminate overlays enable you to achieve a picture-perfect HDB kitchen design.
The laminate sheet has plywood or particle board as its base. There are varieties of laminate available, and they differ in their quality and durability.
On the whole, laminates are water-resistant, and hold up well against stains and changes in temperature and humidity. Laminate sheets show signs of wear overtime in the form of peeling. Damages such as these cannot be repaired.
Lacquer
If your kitchen HDB renovation is a DIY project, you could consider lacquer to give your cabinet door designs a makeover. They are the easiest to apply, even by an untrained hand. Lacquer is a solvent-based resin that can be applied like paint.
It dries quickly, within minutes, to form a hard, non-porous, transparent coat. The resin could either be applied like regular paint or could be sprayed. You can opt for a high-gloss, semi-gloss or matte finish depending on the look you want to create. Lacquer requires several coats of application to create an unblemished finish.
We do not recommend using lacquer for kitchen cabinets lining the sink or the gas stove. If the cabinet doors swell due to water or temperature variation, lacquer runs the risk of cracking or peeling. There's nothing that beats the timeless elegance of raw wood for kitchen cabinet door designs or bedroom furniture.
However, it is expensive! The options mentioned above balance aesthetics, durability, ease-of-maintenance and cost. In the end, it all boils down to what suits your kitchen interior design, usage and pocket. Compare your options thoroughly before you select to get the best value for money.