If you are a stickler for organization, a walk-in wardrobe in the bedroom design could be a dream come true. Not more sifting through messy cupboards and drawers! Walk-in closets sure make it easier to find your shoes, clothes and accessories in a jiffy.
But that's not all! As the focal point of your home, it adds a touch of luxury we all crave for. With everything at hand, it makes for a very practical dressing room too.
So, whether you have an extra room to spare or plan to squeeze one into your modest HDB, here are 14 amazing ideas to design a custom walk-in closet.
Focus on three things for a walk-in closet for your bedroom design – layout, design elements and storage.
Use Baskets
 
They make it easy to sort and compartmentalize similar items. They are available in countless material options. There is wicker, cotton rope, fabric, canvas, jute and plastic.
Build an Island or Bench
Master bedroom designs have the space to fit an island in a walk-in closet. Marble finishes add opulence. Use it as a platform for ironing or folding clothes.
Bring in a Dressing Table
All it takes is a wall mirror, a shelf to house your styling products and appliances and a stool. Our Singapore interior designers always recommend a vanity table for the convenience it adds.
Premium Interior Design Elements
A statement pendant light or chandelier, full length mirrors, or faux fur accents make it look grand. A potted plant adds a freshness to the room.
Stack up to the Ceiling
In an HDB, maximizing space horizontally might not be an option. Extend vertically, all the way up to ceiling. Shelves and units on the top can be used for items not in regular use. The addition of a wooden ladder lends a rustic touch.
Merge Areas
Combine an ensuite bathroom with your walk-in closet. You can extend the design elements of the bedroom design right into the walk-in wardrobe. Utilize the passageway between the bathroom and bedroom for your walk-in closet.
Add a Pop of Colour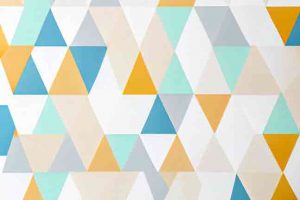 Transform the space with a fresh wall colour painted behind the rails. You can also opt for statement shelves with painted graffiti. If solid colours are not your preference, patterned wallpaper designs fitted at the back of shelves look striking.
Don't Forget to Add Seating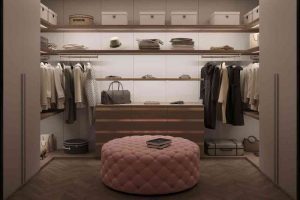 It should complete your bedroom interior style. Your options include a window seat, a simple or settee creative bench, a tufted ottoman, plush poufs, or an upholstered chair or couch.
Variety in Storage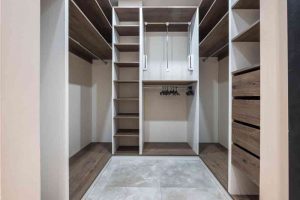 Think of a pull-out drawer with glass displays for jewelry. Rails can be fitted to hang shirts, coats and dresses. Use drawers to store your undergarments and open shelves to flaunt your footwear.
Let There Be Light
You might bank on natural light to illuminate your walk-in closet by day. The right lighting options will brighten up the space by night. Choose a chandelier or pendant light to set the ambience. Track lighting and backlit shelves will help you see the contents of your closet.
Maximize Space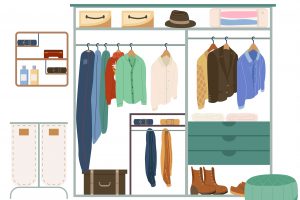 A walk-in closet sure takes up more floor space in your bedroom design than a regular wardrobe. The island can double up as a chest of drawers or the ottoman as a storage unit. Off-the-peg solutions are great for small spaces such as HDB bedrooms.
Colour Code
Get artistic with the arrangement of your clothing. Display your clothing based on colours. The colour gradation looks neat and ordered.
Accessory Wall
Jewelry is meant to be displayed. Showcase your necklaces and earrings on a designated wall. You can hang your hats and bags too.
Get Artsy
Add the final touches with artwork as the centerpiece.
No space in your bedroom design? Walk-in closets need not always be a spare bedroom. Use all the tight corners across your home creatively. Convert a deep alcove, passageway or recess into a walk-in closet.
Separate the area with sliding doors or glass panels. Add in a modular wardrobe system Singapore. Glass doors also open up the space.
With a walk-in closet, especially with open shelving, the clothes could get dusty. Protective coverings for the clothes could help preserve them and keep them from getting a musty smell. Store your handbags in a fabric bag to keep them looking fresh.