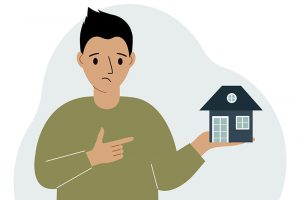 For many, buying a home is a dream come true! And, when they finally do, a small apartment or HDB are the only options their shoestring budget can afford. Then comes the real struggle, especially in Singapore where HDB BTO is getting smaller and smaller.
– trying to fit a mansion-full of stuff into a cubbyhole that is your house.
You're left with space to barely place a foot. A interior design of a small home shouldn't be a compromise on its visual appeal. It can be cozy, impressive and spacious at the same time. All it requires is for you to nail the interior design; with these clever small house ideas you can make a smaller space look and feel roomier. So, dive in!
Neutral Tones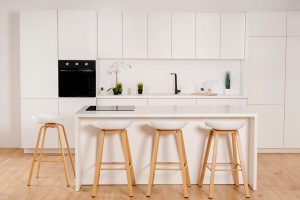 A studio or an apartment is limited in area. To add, your built-in furniture and other possessions will make it look darker and smaller. If the built-in furniture or wall colours in neutral tones or the door fronts could be high gloss finishing, especially white, can do the magic of really opening up your space. It creates the illusion of a larger, brighter room. It also makes the rest of the room décor stand out. If neutral tones are too dull for your liking, you can add a pop of colour in the décor and furnishings.
Broken-plan Layout
​A broken interior plan layout will help you demarcate different areas of your home based on their intended use.
Here, we are not constructing individual rooms or permanent walls, further closing in. Instead, you can show the division by placing a bookcase, shelving unit or cabinetry or the use of curtains. Alternately, one can consider changes in the floor level or installation of glass partitions.
Pocket Doors
​Pocket doors are sliding doors. Suspended from the top by means of rollers, they slide into a compartment in the built-in furniture when opened; they are space-saving as they do not require additional room for the swing as in a traditional design.
Foldable Designs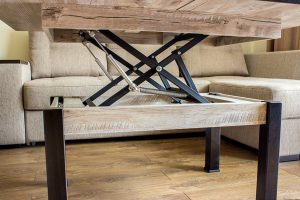 When you are pressed for floor space in HDB, foldable designs can really be space-saving. You may not have room for an additional work table, but you can buy a bookshelf with a fold-down table. Thus, you can use the shelf to stack your books and fold out the table when working or dining.
In a small home that needs an additional guest bed, think of a convertible sleeper chair; it can be extended to form a bed.
Strategic Storage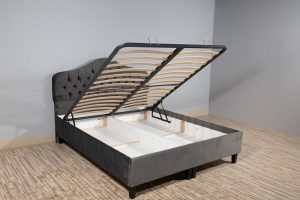 Your belongings need to be stashed away properly. If everything starts piling up, it will only make your home look smaller and cluttered. You may ask – how does one add storage in an already undersized unit? Settle for multipurpose furniture; furniture that doubles up as storage. An ottoman bed or gas-lift bed comes with storage space under the mattress. You can buy storage cubes that can be rolled under the bed and double up as side tables. If your home design features different floor levels, you can consider under-staircase storage. Add drawers, shelves and cabinets. ​Make strategic use of vertical space rather than floor space. Extend the cabinets towards the ceiling. The space on top of cabinets can be used to pack stuff too. Invest in a vanity unit that has a mirror and floating shelves for storage. You can build a loft for storage too.
Mount and Hooks
In living room, mount the television on a wall; it saves the space that would have been taken up by a standalone TV unit. It also creates a clean, non-cluttered look.
​Likewise in the kitchen, instead of stacking utensils, use hooks to hang pots and pans. You could also use a magnetic strip. It saves counter space in the kitchen.
Open Interior Designs
​Cupboard-shaped cabinets give that boxed in feeling. Floating shelves, open-shelves, in-built wall niches can be used for display and storage purposes.
Think Big
Contrary to popular belief, smaller items be it furniture or artwork, will make your room look smaller. Think big.
Decorate the wall with an oversized painting; one that takes up more than half of the wall. It can be the focal point. Do the same with the floor rug; it should be large enough to cover most of the room. Larger items make the room appear bigger.
Compact Furniture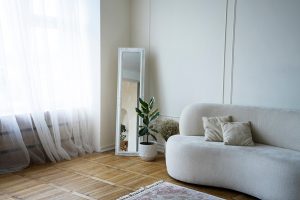 Big, bulky sofas, and ornate and heavy-framed beds eat up valuable space. Minimalism is the key. Sleek, compact designs not only save space, but also allow for easy movement. The same applies for appliances fitted across the home such as fridges and dishwashers. Try to choose furniture that is low in height; this does not block the sightlines.
Besides, the steps mentioned above, you can install a mirror or skylight as well. The reflections spread lighter across the room making it look spacious.
Follow these tips and make the most of your square footage.
​We also like to take this opportunity to announce that we are honored to be featured on Feedspot Blog as the 45 Best Singapore Interior Design Blogs and Website.