In revamping the interiors of your kitchen, it is generally the glossy countertops or fancy cabinet door fronts that take centerstage.
But there is one more thing that unifies all the elements of your HDB kitchen design – The Backsplash. Filling in the spaces between the cabinets and the kitchen countertops, the backsplash can transform the look of your kitchen.
If you are currently working on your HDB renovation, here's everything you need to know about installing a backsplash.
Why consider a backsplash for your HDB kitchen design?
Backsplashes come in countless options. From solid colours, to herringbone and chevron patterns to natural brickwork, a backsplash is a beautiful addition to a kitchen. Not only this, the humble backsplash serves a purpose too. Fitted behind the sink and stove, it protects your wall from water splashes and grease and grime stains.
Ceramic/ Porcelain Tiles
Ceramic and porcelain tiles have been the time-honored, top choice for kitchen backsplash materials. With their glass-like glossy surface, it is easy to wipe down spills and stains; a convenience we all look for in the kitchen. Porcelain and ceramic are heat-resistant and highly-durable too.
Tiles are available in different colours, sizes, styles and textures and can be customized to blend with your HDB kitchen design. Tiles are a budgeted option, but textured and patterned varieties could be on the higher end of the price scale.
Tempered Glass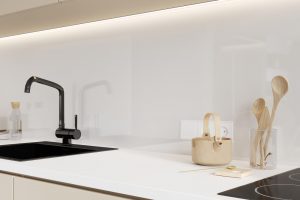 Choose glass if you're targeting a chic and modern interior design. It is a look that is here to last. Glass, because of its reflective properties, is ideal for kitchens low on natural light. Tempered glass is heat-resistant, and does not scratch easily.
It is the easiest to maintain. The non-porous surface does not require treating or sealing. With glass you can work with different looks, plain, frosted, mirrored or back-painted.
The cost and aftercare however are the major downsides of using glass backsplashes. Kitchen designers also speak about glass being tricky to install in term of power sockets.
Natural Stone
Many kitchen designers extend the countertop material for the backsplash. This includes granite, marble and quartzite. The grains and the gloss of natural stone look polished and high-end. They're ideal for kitchens because of their durability.
Natural stone is sturdy and can withstand high-heat and pressure. They are also easy to clean taking care of the problem of stains, grime and dirt.
Granite and marble, however, must occasionally be sealed since they are permeable. Speaking of price, marble is the costliest material. Quartz and granite are less expensive options.
Stainless Steel
Stainless steel has not been a common option in household kitchens since it is frequently perceived as being quite cold and sterile. Yet, modern kitchen designers are introducing this robust material into houses.
Stainless steel has so many desirable properties for a kitchen backsplash – easy to clean and install, heat-resistant, affordable, non-corrosive and sturdy. Overtime, stainless steel could develop scratches and dents and may need replacement.
With stainless steel, you can design a sleek and stunning look. It only needs to be carefully combined with other materials.
HDB Kitchen Backsplash Maintenance
Cooking puts a lot of strain on kitchens. Always factor in wear and tear for whichever material you use. Selected materials look premium and posh, but take a lot of effort and money to maintain.
Sizing and Fitting
A backsplash can be restricted to the space between the cabinets and countertop. It could also extend all the way up to the ceiling.
Extending it across the room gives the impression of a larger space. It also achieves a more contemporary look. Mark out the areas where you would like to have it installed.
How Is It Fitted?
Installing a backsplash is the easiest in kitchen HDB renovations. Tiles are generally fitted with thinset mortar. Grout reinforces the installation. Do not overlook it. A good Singapore interior design will recommend a quality grout. Overtime, it could crack or get discolored and could require replacement.
Create a Focal Point
You can think of incorporating elaborate designs to draw attention as soon as you enter the kitchen. Placement is important here. Avoid matching the backsplash with the kitchen interior design. Instead choose complementary or contrasting colours.
Get creative with patterns and shapes. You can choose from among bold mosaic tiles, the classic subway tiles or the attractive textured tiles. There is a great selection of tiles designed to offer wood, wallpaper, metal, stone and fabric finishes too.
Don't hurry with your decision of a backsplash for your HDB kitchen design. Plan ahead and explore what best works for your kitchen.