Scouring the web for bedroom design ideas?
For each of us, a bedroom connotes different things – a private space, a restful retreat, or even a home office in our post-pandemic world. However, when it comes to the bedroom interior design, we rarely think beyond the bed, bedding, wardrobe and dresser.
Your bedroom is a blank canvas; a place where you can express your personal style and tastes. From traditional designs featuring rustic elements to contemporary styles known for their minimalism, there are countless ideas to choose from.
We've put together 6 HDB bedroom design ideas. Take your pick.
Cottage Style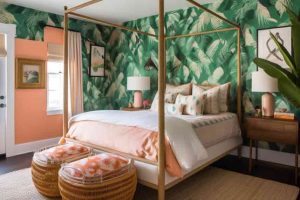 If your image of a bedroom is a quaint, cozy corner, the cottage style bedroom design is the one for you.
The ambience in a cottage style bedroom is very relaxed and casual. This decorating style is dominated by natural elements and subdued hues.
While we would recommend whites, soft grays, beige taupe, the style also allows for blues, greens and corals too. There's scope for a floral accent wall too. Heavy wood, wicker and wrought iron are your material choices in furniture softened with down-fill pillows, ruffled linens and heavy blankets.
Remember cottage style décor is not polished. Its charm lies in its weathered and rugged look.
Industrial Interior Design
On the other side of the spectrum is the industrial style bedroom design. It is raw, bare and unadorned; a look borrowed from the warehouses and factories of the 1900s.
The industrial interior design is a clutter-free look and emphasizes space. Nothing screams industrial more than an exposed brick wall, piping and beams.
Get your hands on vintage furniture, preferably with signs of wear. A dark metal bed frame can be the focal point of your industrial style bedroom. Complete the look with textured or unfinished concrete walls and industrial lighting fixtures.
Scandinavian Interior Designs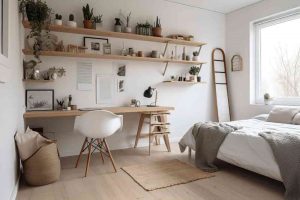 The Scandinavian style is yet another home interior design that is in vogue. Scandinavian interior designs are typified by their minimalism.
If you'd like to recreate this look for your bedroom, keep it pared down. Set the stage with white wall finishes or earthy shades layered tone-on-tone.
An abundant use of wooded elements (furniture, flooring and walls) as well as natural fabrics (jute, burlap, linen, sheepskin) brings this style very close to nature. Steer clear of lacy and floral embellishments.
Minimalism too cold for your liking?
Add in a knit blanket, a potted plant or some faux fur accents.
Contemporary Style Interior Design
While they do share features, contemporary is not the same as modern interior design. A contemporary style allows for great freedom in the design elements. Avoid the fussy interiors such as a carved furniture, or numerous pictures in frames.
The goal is to create a clean and clutter free look. A contemporary style incorporates geometric shapes in its design, bringing in the straight lines and the curves. Embrace the two-tone colour palette. Choose contrasting colours that complement each other. Black and white is a classic option. However, you could also think of going bold with brighter colours.
Blend textures. Glass, and stainless steel lend a very modern look. The same goes with tiles, vinyl and wood for the flooring.
Vintage/ Traditional Style
The vintage style bedroom design is deeply rooted in the past. It is opulent with its ornamented furniture and royal and vibrant colours. The traditional style exhibits heavy influences of 18th and 19th Century European interior trends.
For instance, a traditional-style bedroom would feature a neutral colour scheme with a touch of gold or brass accents. A four-poster bed as its centerpiece with a matching chest of drawers or night lamps.
The design detailing across all the woodwork. Use a lot of collectibles. Add in a Persian rug or carpeting and perhaps a picture of a landscape to complete the look.
Eclectic
Eclectic design incorporates a range of historical eras and aesthetics, and it's not just a random assortment of things. Instead, it's a carefully selected look that brings together a variety of different pieces with the correct mix of colours, textures, and patterns.
Also called the Bohemian style, it gives you a chance to really get creative with your bedroom design. It is important to see that diverse elements marry well.
These are a few of the looks we think everyone should consider before settling on a bedroom design. Working with a good designer will ensure you get the interiors that meet your requirements while staying within your budget and obtaining the bedroom of your dreams.