If you're looking for fresh and modern interior design ideas for your newly purchased HDB BTO flat, but concern on the small areas you have.  Fret not, we might have solutions for you.
It is always a psychological belief that the bigger version is always better, when although sometimes, it might be applicable, it is not always true.
A small space in HDB BTO can be cozy and feel warm, however being tight on space is never sought after, and that is why we've come up with a list of tips and tricks for you to build a workaround of your space.
Modular Shelving for the Win (Living Room)
This is something that all homeowners can never say no to — more storage! If you need more storage in your home, make good use of the vertical space beside bay windows and build a shelf!
This helps taping onto the potential of your space and really maximizing it to reach that potential. Have collectibles to display? Add an an open shelf in your living room design so your guests can admire your prized possessions. To achieve a minimalist look, go for concealed shelves instead.
Shelving is often one of the most overlooked aspects of interior design. With sofas, tables, dining tables, and TV consoles usually, more often than not taking more of the focus and attention out of a space.
But a well-thought-out storage solution can make all the difference to almost every room of the home. Over recent years, more and more people have been turning to modular shelving for their home storage needs.
Modular shelving systems bring flexibility to your home as they can change and adapt with your needs. Whether you're renting, have children's toys to put away or just enjoy switching up room layouts every now and then, modular shelving will easily disassemble, reassemble and reconfigure. The units can be stacked or connected to produce various shelving arrangements.
Sleep on a Pedestal (Bedroom)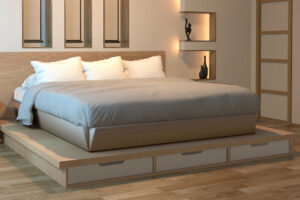 Another idea would be to get your interior designer (ID) is to build a bed frame in either a master bedroom, or any other bedroom.
The bed frame incorporates hidden storage compartments which is ideal for smaller homes. The extra wood and huge frame give it an overall cosy and luxurious feel.
This feature allows for side drawers and bottom cabinets, which contribute to additional storage and convenient access to items.
The result is a room that has a tranquil, relaxing overall vibe and you feel as if you are sleeping on a pedestal, casually feeding into your ego.
Do up a Made up or Vanity Table (Bedroom)
Over years of living in a home, it is sometimes astounding looking at the number of cosmetics, trinkets or just small/ medium sized things one collects to be stored, in order to avoid clutter forming all over your room, a vanity in the bedroom is strongly suggested.
An ingenious design could combine a luxurious lounging bench beside a small table that can be used as a makeup or vanity table. With this, homeowners can get ready by the bay window with natural lighting in the day.
Furthermore, the white furniture, together with the velvet cushion and vintage stool work together to bring a posh feel to the room. The wide range of drawers help tremendously in avoiding things piling up over your bedside tables as well.
Mirror, Mirror on the Wall (Bathroom)
Cinderella probably had it good, because not only do mirrors reflect light, they also reflect the view, thereby tricking the eye into perceiving more space. This trick is widely used in restaurants and hotel rooms as well.
The logic of white walls also works in a similar fashion, we all know of white's reflective qualities. It opens up a room, making it feel airy and light, calm and serene.
Painting the walls and ceiling the same shade of white only enhances this cloud-like effect. And it serves to blur the boundaries between wall and ceiling, causing your eye to travel up, essentially making the ceiling seem higher
Getting your new HDB BTO soon? And looking for a specialist to give you more advise and interior design ideas, drop us a line and we get in touch with you soon!