Freestanding tubs, glass doors, curbless shower stalls and no walls! Can't get over the stylish, open-concept bathroom from your last hotel stay?
Want to recreate the look in your home? Bedroom-spilling-into-the-bathroom a.k.a. the 'open concept' is one of the bathroom interior designs that is fast catching up in homes. For many, while it could be aesthetically pleasing, others consider it a rather bold move.
Open concept bathrooms, indeed, lack privacy. However, in homes with limited available floor area, this bathroom design could really expand the space. The bathrooms are brighter as they take advantage of natural light streaming into the bedroom. But most of all, they look grand and classy.
A bathroom designer will ensure you don't go wrong with the details. Nevertheless, here's a guide to get you started.
Go Semi-open
A semi-open concept is an option if privacy is a concern. We usually recommend screening the water closet; you can do this with curtains, frosted/translucent glass or by incorporating blinds.
One could also include a designated room. The toilet shouldn't be the focal point in your bathroom. It should ideally be kept out of sight, especially hidden from the bedroom entryway.
Opt for a doorless entrance to keep the bedroom and bathroom visually connected. Get creative with the use of glass panels. A semi-open bathroom interior design gives the impression of a larger room and also provides some privacy.
Stick to Uniform Lighting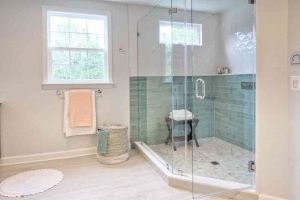 An open concept bathroom will benefit from the natural lighting of the bedroom. You can also have additional lighting fixtures placed at different points. This includes functional spaces such as by the side of the mirrors, or close to the shower stall.
Be consistent in the lighting that will be used in both spaces. It could be ornamental or minimalistic. Layered lighting works best in the bathroom.
Play Around With Bathroom Interior Design Elements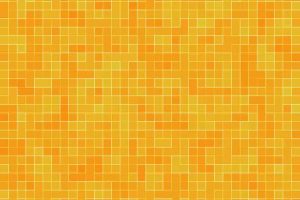 Although attached, the rooms serve different purposes. You can preserve the character of each by incorporating myriad design elements.
For instance, you can switch out the wall design or flooring option. Add depth and texture with patterned floor tiles. One could create a stunning accent wall.
Natural stone and ceramic are the preferred material options. Leveled placement, having the bedroom elevated, is yet another way to distinguish the area.
Plan the Bathroom Layout
Identify the wet and dry zones, and the placement of the wash basin, bathtub and WC. Plan the layout to leave enough space for movement. An open bathroom is attached to the bedroom. And, bathrooms generate a copious amount of heat and moisture.
If it makes its way into the bedroom, you run the risk of damaging furniture. Your bedroom will also get stuffy.
Therefore, the importance of ventilation cannot be stressed enough. Bathroom designers suggest building the bathroom against an external wall, to allow for proper air circulation.
Include Doors
An open concept bathroom forgoes doors and walls, but it is not hard and fast.
Sliding and pocket doors can help transform an open bathroom into an enclosed space when needed.
Consistency in the Color Palette
An ensuite bathroom should continue the tones used in the bedroom. It creates a unified look. The same goes for materials and finishes. They should be common across the bed and bathroom. Choose anti-mould paints. The materials should be waterproof and certified for use in bathrooms.
You will not go wrong with a toned-down color palette. Opt for sleek and minimalist fittings.
Built in Storage
You cannot risk toiletries and towels making an ugly appearance. Built-in-storage is a clever way to achieve a clutter-free look.
Don't Forget the Vanity Unit
Install one that houses a sink, plush countertop, storage and a large mirror. It will make your bathroom look opulent.
The under-sink cabinet will give you ample space for toiletries and accessories. The large mirror will further create an impression of a bigger space, with the light bouncing off the reflective surface.
The counter space can double up as a dressing area.
Glass Shower Cubicle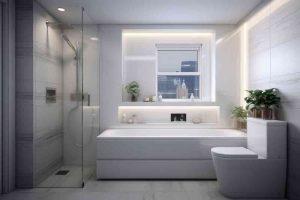 Placed side-by-side with the bathtub, the glass shower enclosure recreates the spa-like experience. These showers stalls are usually curbless and feature frameless glass panels.
Thus, they blend well with the free-flowing design of an open bathroom but, at the same time, help demarcate areas. The perfect, hotel-inspired ensuite bathroom is one that achieves a smooth transition while subtly marking the divisions.
Follow these tips for bathroom interior designs that will wow your visitors – an open concept bathroom that's impressive, functional and efficient.